A ceremony to receive artifacts from the "Steel Roses" of the Steel Brigade in the Vietnam war
On October 5th 2018, the Vietnamese Women's Museum (VWM) was honored to receive artifacts owned by former military engineers of the Steel Brigade during the Vietnam war.
The female engineers were members of the Battalion 33 – Unit 14 – Group 559 who fought at the U-turn A in the Ta Le Tunnel of the Phu La Pass (abbreviated as ATP) in Kham Muon Province, Laos. That was one of the few places where the enemy fired day and night with fierce bombardment.
The artifacts brought to the museum are backpacks used during their time fighting on the focal point on the Truong Son Trail, medicine boxes that helped them get through malaria seasons, tents, hammocks, rice containers and needle cases. Each artifact has a story to tell about their lives as soldiers and evokes memories of the times they destroyed bombs and filled bombing pits to connect the front and rear lines.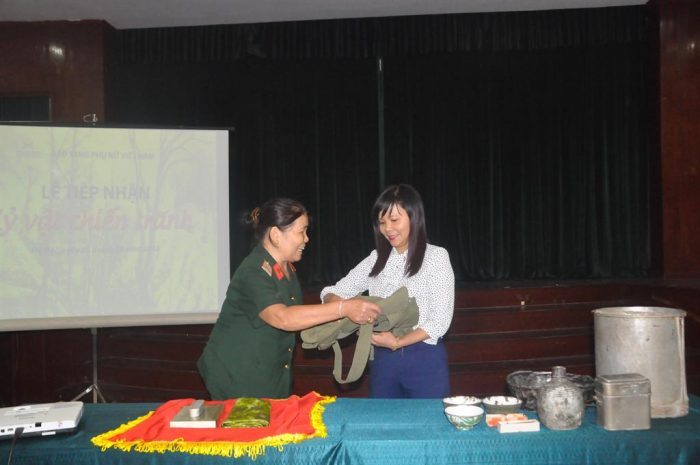 Former Vice Commander-in-chief Duong Thi Trinh, in a heartfelt gesture wished that those artifacts will be kept and displayed at the museum so that domestic and international visitors will have a more in-depth understanding about wartime in Vietnam. She also proudly told the story of meeting the late General Vo Nguyen Giap, having him name them "The Steel Brigade", and how he sent them a bag full of pomegranates, fabrics and 100 soap bars after his visit.
Thirty years later, the General once called out to them on television, and some of them burst into happiness when they had a chance to meet with him in Hanoi. In 2015, these female military engineers were dubbed "Steel Roses" in one television program for their bravery and fierceness in fighting for the country.
Even though the war ended many years ago, the "Steel Roses" still continue to work hard for the sake of the country, but in different roles. Some are wives and mothers; some have spent all their lives raising children of the sick and dead comrades.
With an understanding of the value of these artifacts, the museum will preserve and store them carefully. We will soon introduce them to the public through exhibitions and educational programs.