The #Wikigap Initiative: Improving gender equality on the Internet in Vietnam
On the occasion of Vietnamese Women's Day on October 20th, the Swedish Embassy, UNDP, UN Women and other NGOs connected with the Vietnamese Women's Museum to organize a training program within the framework of the initiative called #Wikigap. This was part of a global campaign, initiated by the Swedish Ministry of Foreign Affairs and Wikimedia. The event welcomed a number of journalists, students from the Academy of Journalism and Communication as well as individuals and representatives from various organizations who wanted to write and update content related to gender equality on Wikipedia.
Wikipedia is the world's largest online encyclopedia created and published by Internet users. However, there is an imbalance between men and women using this site. Currently, 90% of users writing and updating content on Wikipedia are male. Articles about men are four times higher. The numbers may vary by geographic region, but information about women is much less than that about men across all languages.
The #Wikigap Initiative provides a platform for volunteers to write articles representing women as it will help narrow the gap between male and female users on Wikipedia. Participants who attended the training on October 19th were trained to add more biographical information about Vietnamese women who are famous and inspiring in different aspects of life. The event was expected to have women of all ages join as information providers for Wikipedia in order to build a more balanced environment on the Internet.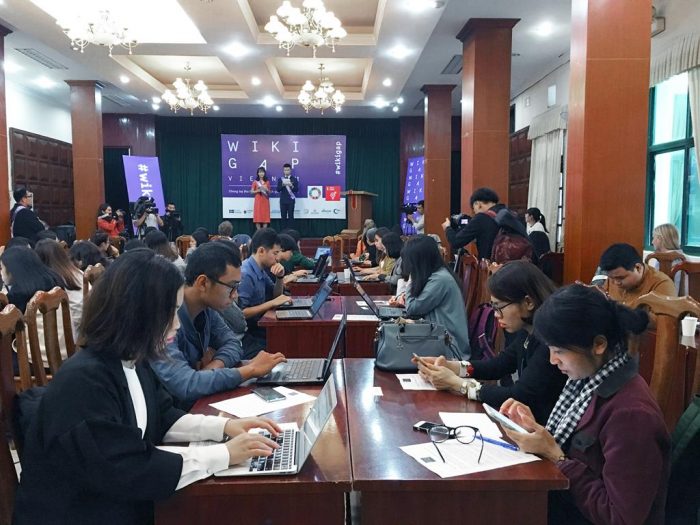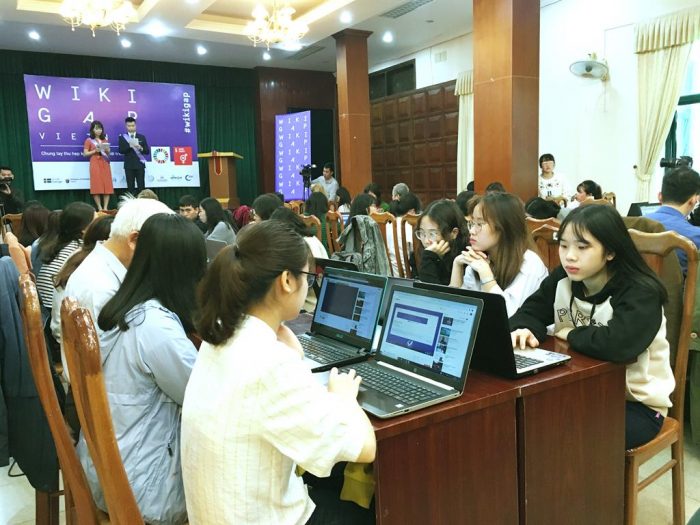 Journalists and students from the Academy of Journalism and Communication participated in the #Wikigap Training in Vietnam
Speaking at the opening ceremony, Swedish Ambassador – Mr. Peredic Hogberg said: "When women are being overlooked we simply miss out the potential of half of the population. "Wikipedia is a modern form of history writing. By raising the representation of women biographies we will access more information which could help us all to learn, grow and develop."
Delivering the speech with the topic, "The 2030 Agenda – Sustainable Development for Gender Equality by United Nations", Mrs. Caitlin Wiesen, UNDP Country Director for Vietnam emphasized: "The #Wikigap event takes place at a critical time, just after the International Day of Poverty Reduction, and before the Vietnamese Women's Day. In today's transition towards an Industry 4.0, to not create any new forms of poverty that may leave women behind, we need to let women and girls be digitally literate and learn to utilize the advantages of technology, from the Internet to Internet of things as leaders and agents of change."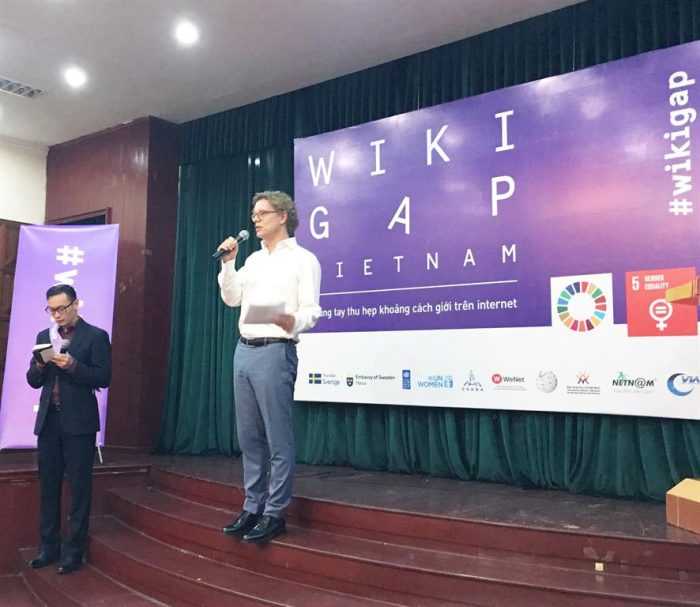 Mr. Pederic Hogberg – Ambasasdor of Sweden and Mrs. Caitlin Weisen – Country Director of UNDP in Vietnam spoke at the opening ceremony.
The Vietnamese Women's Museum is honored to once again become a partner of the Embassy of Sweden in organizing programs and events related to gender issues and gender equality. We believe that the #Wikigap initiative in Vietnam is an important leverage that helps reduce gender inequality and gender stereotypes in the media and in society. This will also be the approach of the Vietnamese Women's Museum for upcoming events and exhibitions with the desire to bring women and girls closer to technology and the Internet for the development of our society in today's digital world.