Museum tour inspires Dr. Frazier, a female American historian
"Thank you for the wonderful tour of the Vietnamese Women's Museum, which exhibits the lives and history of Vietnamese women. The photos and stories of women during the French and American wars were quite moving." – this was shared by Dr. Jessica Marie Frazier, a lecturer, and historian at Rhode Island University, after visiting the museum's permanent exhibitions.
Dr. Frazier visited the museum on the first day of her trip to undertake research for her book about foreign relations between Vietnam and America during the war, focusing specifically on the role and relationship of women in the two countries. On 22nd July 2015, she visited the Vietnamese Women's Museum to meet staff and conduct research. She was very happy to learn more about the improvements in gender equality in Vietnam. Vietnamese women are now more successful in different fields such as politics, economy, poverty reduction, culture, and art
Dr. Frazier spent a long time visiting the permanent exhibition, in order to understand more about the roles of women in Vietnamese history. During the tour, she asked questions such as, "What was the difference between the roles of women in the North and South during the American war?"; "How were women's lives after the war ended?" These questions showed her concern and compassion for Vietnamese women and the Vietnamese Women's Union during 20 years of resistance against American imperialism (1954-1975). She also took time to study the roles of women in everyday life and the talent and skill of women making traditional costumes.
After the visit, Dr. Frazier was touched and expressed her admiration for Vietnam, its people, and especially its women – a heroic country with a rich tradition of a beautiful culture.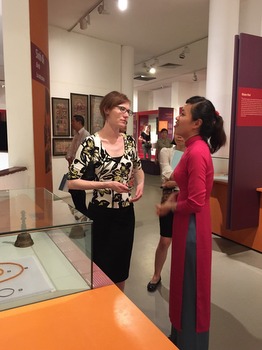 Dr. Frazier (left) visiting the museum