The Exhibition "24 Hours on the Street" Captures the Voices of Street Children
On the morning of December 2, the Vietnamese Women's Museum (VWM) held the opening ceremony for the exhibition "24 Hours on the Street." This exhibition is part of Project 938 – "Promoting, Educating, Advocating and Supporting Women to Participate in Solving Social Issues Related to Women in the Period From 2017-2027" – and ties into the annual theme of the Vietnam Women's Union – "Safety for Women and Children."
Participating in the event were Ms. Tran Thi Huong, Vice President of Vietnam Women's Union; Ms. Nguyen Thi Thanh Hoa, former Member of the  Central Committee of the Communist Party of Vietnam, former President of the Vietnam Women's Union, and President of the Vietnam Association for Protection of Child's Rights; Mr. Ngo Van Quyen, Deputy Director of the Department of People's Union, Central Commission for Mass Mobilization; Mr. Pham Dinh Phong, Deputy Director of the Department of Cultural Heritage, and Ministry of Culture, Sports, and Tourism; and representatives of interested social organizations and the public.
The Exhibition features disadvantaged children, who, instead of attending school and enjoying life, have mostly spent their time earning money on the streets in urban areas. They often face social problems such as domestic violence, abuse, exploitation in the labor force, material deprivation, and food insecurity. The Exhibition captures the lives of street children through emotional stories that they rarely share with anyone.
In the process of researching and developing the Exhibition, Museum staff spent time talking with dozens of children living on the streets. Only nine of them agreed to share their stories. The Museum used the photo voice method to capture the authentic voices of the children so that audiences could fully understand their circumstances. Some photos in the Exhibition are taken by the children themselves, illuminating the stories of their daily lives. They live and make ends meet on street corners and under bridges. In the exhibition, they share these life experiences.
"I was born without knowing my dad. When I was a newborn, my mother left. Since then, I have been living with my maternal grandparents and uncle. He is so bad-tempered. When he is drunk, he hits me. My grandparents also drink alcohol and scold me a lot. So I escaped from home to wander. I learned to swim by myself and hunt snakes using wood sticks." – Hoang Anh Tuan, born in 2007, Bac Kan Province shared his story.
"As I sit here, I remember the days when I wandered around and picked up people's leftovers to eat. I can eat anything as long as it makes me less hungry." – The story of Vang A Denh from Son La Province.
"I took this photo because this studio is my dream. I wish I could learn to take photos and then open a studio like this." – Minh, born in 2003, shared his dream.
The exhibition shares real life stories told by street children in their own voices. The stories reflect their many varied experiences. Thanks to the abundant support of the Vietnam Women's Union and other organizations, these street children have regained their confidence and are ready to spread their wings and take off toward a brighter future. The Exhibition aims to convey the message that "safety for women and children in a shared responsibility of all of society." It shows us that we need to understand our responsibility for raising and supporting children and making them feel safe within our families and community.
Speaking at the opening ceremony for the Exhibition, Ms. Tran Thi Huong, Vice President of the Vietnam Women's Union said, "The Vietnam Women's Union asked the Vietnamese Women's Museum to organize an exhibition about street children – a special group of children living under difficult circumstances. With innovative support, the Museum collaborated with organizations to interview street children to feature in the Exhibition. The photos and stories vividly reflect the difficult lives of those who are the target of social evils. They affirm the needs of having a safe environment for children to grow. We all need to join hands to ensure children's safety."
The Exhibition "24 Hours on the Street" will be on display starting December 2, 2020, at the Museum and will be available online on the Museum's website in December 2020.
Below are photos taken at the ceremony: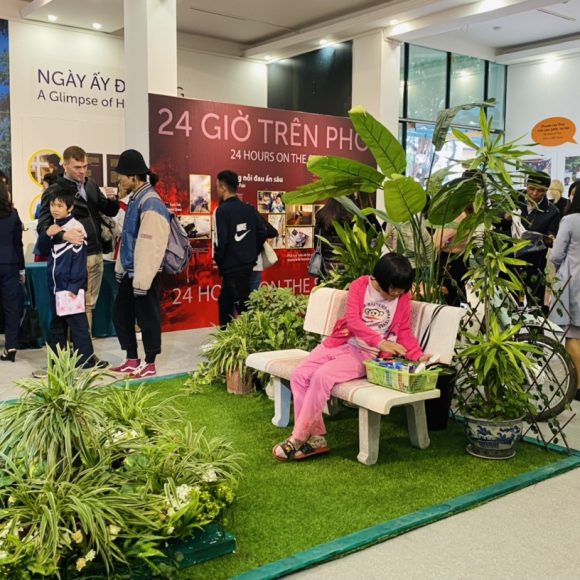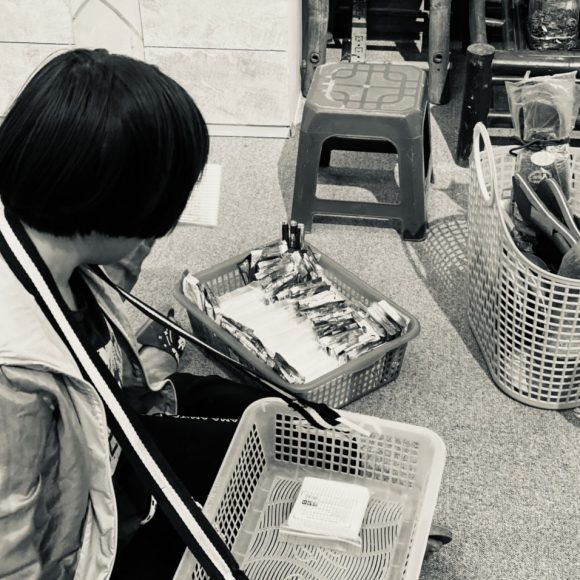 The street children featured in the Exhibition attended the ceremony, demonstrating  their jobs on the street