"Forever Passionate" – an exhibition honoring Vietnamese female scientists
On the morning of October 16th,  the Vietnamese Women's Museum, the Heritage Center for scientists and scholars of Vietnam, and the Vietnam Association for Intellectual Women collaborated to organize the opening ceremony of an exhibition titled " Forever Passionate".
It was an honor to have the presence of Mrs. Hoang Thi Ai Nhien – Vice President of the Vietnam Women's Union, Mr. Pham Dinh Phong – Deputy Director of the Department of Cultural Heritage, Mrs. Nguyen Thi Hoi – Vice President of the Vietnam Association for Intellectual Women, many female scientists and the press.
In the opening ceremony, Mrs. Nguyen Hai Van – Director of the Vietnamese Women's Museum said: "From the stories of joy and sadness, of success and failure, and of passion and sacrifice told by the female scientists in the exhibition, we wish that visitors would have a better understanding about what they have been through to make great scientists. That is the journey of living their dreams and turning them into reality."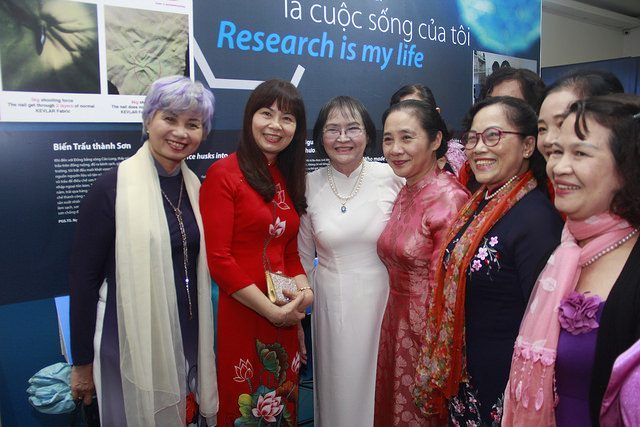 Vice President of the Vietnamese Women's Union – Mrs. Hoang Thi Ai Nhien is having a conversation with the scientists
Through the 3 main themes including Igniting Passion, The Creative Journey and Dreaming Forever, the exhibition honored the success of the scientists and their passion to do research regardless of their ages. Even though they are working in different areas of expertise, there is still one common thread among them. That is their contribution to improve the standard of living of Vietnamese people and how they overcome hardships to play both roles of hardworking scientists and loving mothers.
Associate Professor Nguyen Thi Hoe, Chairman of Kova Paint Corporation, one of the scientists featured in the exhibition shared her thought, "The exhibition is very good in terms of content. I suggest doing exhibitions like this in other countries so that people from all over the world can understand about the lives of Vietnamese scientists in general."
Mr. Nguyen Xuan Hiep, a visitor expressed his feelings after visiting the exhibition: "I feel very proud of Vietnamese women. They have many research projects that impress us such as the 500 KV transformer, the solid waste incinerator, etc. These female scientists have surely been successful in their fields."
"Science is life" is the message of the exhibition. It encourages people to live with their dreams and turn them into reality with passion and creativity, and find values that serve the community and its people.
The exhibition "Forever Passionate" will open to visitors from October 16th to November 16 th 2018.