"I learn a precious lesson after the tour around Vietnamese Women's Museum"
This was said by Mrs. Bekk Mariá – President of National Assembly of Hungary's Wife on her private tour around the Vietnamese Women's Museum on November 9th, 2015. The place was one of several primary destinations she chose to visit during her stay in Hanoi. Here she was deeply impressed with the overall exhibit.
During the first hour of the tour Mrs. Mariá paid much attention to the stories of Vietnamese women, she found their wedding customs and childbirth practices interesting. And what could not be missed was her admiration of the brave women in the history of Vietnam as well as being fascinated by the diversity in ethnic women's fashion and beauty methods.
Having a correlative comparison between the traditions of both countries, she kindly said: "I learn a precious lesson after the tour and understand how you, Vietnamese people have preserved your traditions. Ours are sinking into oblivion and we are trying to evoke them widely through annual festivals."
At the end of her visit, Mrs. Mariá expressed her profound gratitude to the warm welcome and hospitality given to her by the leaders of the Vietnamese Women's Museum as she hoped that in the future, there would be more chances to tighten the tie of relationship between Vietnam and Hungary.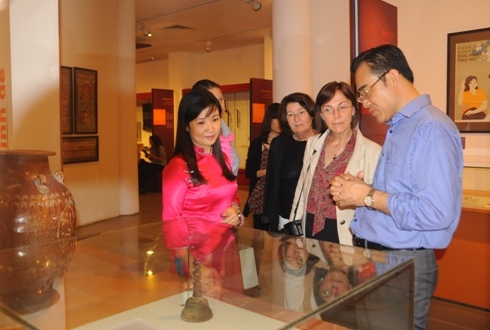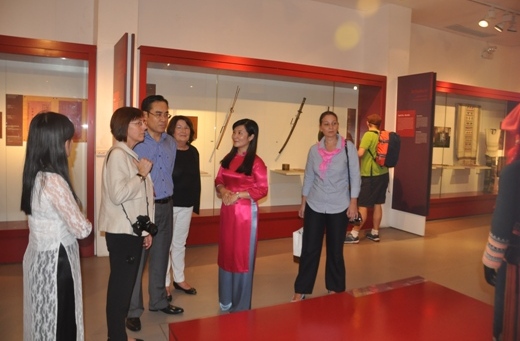 Mrs. Bekk Mariá (in white blazer) is contemplating the exhibit