ICME 2015 Annual Conference held in Hanoi, Vietnam
In 2 days October 25th and 26th 2015, the ICME (International Committee of Museum of Ethnography) 2015 Annual Conference "Museum and Communities: Diversity, Dialogue, Collaboration" was taken place at the Vietnamese Museum of Ethnology.
More than 35 members from museums and universities in Australia, Belgium, Canada, Colombia, Croatia, Denmark, Taiwan, Germany, Ghana, Israel, Italy, Kenya, Norway, Japan, Finland, and Vietnam attended the conference. Papers were divided into 6 sessions as follows:
– Voices, Dialogues, and Exhibitions
– Identities, Ethnicities, and Objects
– Difficult Histories, Nations, Ideologies
– Digital objects and museums without objects
– Audiences and Engagement

– Participatory Practice and Exhibitions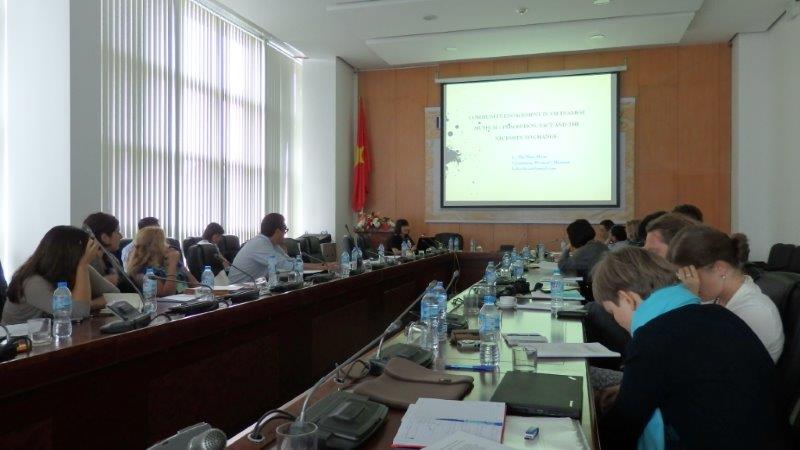 20 papers covering all those sessions addressed contemporary museum's concern such as The transformation of exhibition spaces; The connection between museum and community, modern technology and traditional museum practice; How can we reinterpret and reimagine historical collections, together with source communities engage diverse new audiences?
Presentations reflexed not only the diversity, dialogue, and collaboration between ethnic groups or heritages in nations but also the diversity of museum work in different continents.
Ending 2 working days, Dr. Viv Golding, President of ICME appreciated the success of the conference, calling for the connection and dialogue between museum staffs from different countries in order to enforce the achievement of the international museum network.
Dr. Le Thi Thuy Hoan from the Vietnamese Women's Museum presented a paper with the title "Community Engagement in Vietnamese museum – Perception, Fact, and the Necessity to Change". The presentation initially issued the general perception of the Vietnamese museum on community engagement; stated the positive factual results; and suggested some ways to improve the effectiveness of community engagement for the Vietnamese museum.