Sri Lanka Cultural Festival in Hanoi
On the morning of April 27 th , 2018 the opening ceremony of the Sri Lanka cultural festival was launched at the Vietnamese Women's Museum. The festival was jointly organized by the Vietnamese Women's Museum, and the Sri Lankan Embassy on the occasion of the 70 th anniversary of the National Day of the birth of Sri Lanka, and the 48 th founding anniversary of the establishment of Sri Lanka and Vietnam diplomatic ties. Attending the opening ceremony were Mr Karu Jayasuriya, Speaker of the Parliament of Sri Lanka, Madam Nguyen Thi Tuyet, Vice Chairwoman of the Vietnam Women's Union, Mr. Nguyen Van Thao, Assistant to the Minister of Foreign Affairs of Vietnam, Madam Hassanthi Urugodawatte Dissanayake, Ambassador of Sri Lanka in Hanoi, as were many Ambassadors from all the embassies in Hanoi, media reporters and members of the public who love the country of Sri Lanka.
H.E Karu Jayasuriya, President of the Parliament of Sri Lanka shared his thought at the opening ceremony on his official visits along with senior delegates of Sri Lanka to Vietnam: "The Sri Lankan people are very friendly and happy. Our country is always happy to cooperate with Vietnam on various fields. The Sri Lankan Cultural Festival in Hanoi this year will enhance mutual understanding between the two countries in order to promote more cooperation for the common development of the two countries."
Located in the Indian Ocean region in the Bay of Bengal and to the southeast of the Arabian Sea in South Asia, the tropical island country of Sri Lanka has a population of 21 million and is a multi-ethnic, multi-religious society. The Sri Lanka Cultural festival provides an opportunity for Vietnamese people to experience and explore Sri Lanka in the heart of Hanoi. The festival's activities include: exhibitions of paintings and illustrations of Sri Lankan artists, a photo exhibition of Sri Lankan and Vietnamese bilateral relations, introduction of traditional weaving products and the food of Sri Lanka, whilst promoting Sri Lankan tourism. The Sri Lankan cultural festival in Hanoi contributed to shorten the geographic distance so that Vietnamese people could discover more information relating to the culture and long history of Sri Lanka. Additionally, it also helps to create many opportunities for the cooperation of small and medium enterprises between the two countries.
The Sri Lankan cultural festival will be organized from April 27- 29, 2018 at the Vietnamese Women's Museum.
Some images at the event: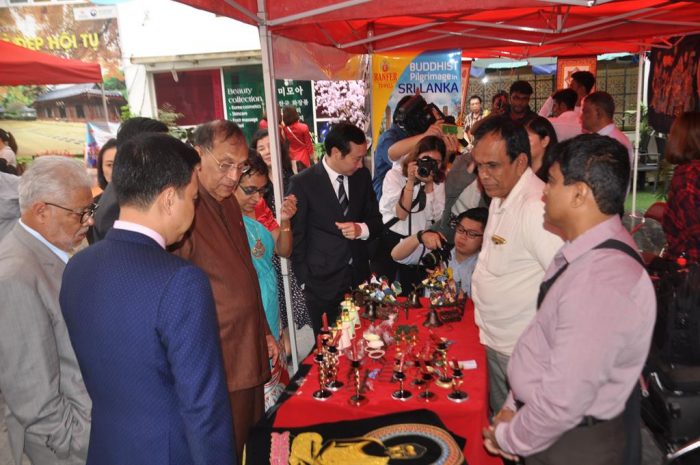 Mr Karu Jayasuriya, President of the Parliament of Sri Lanka and delegation, with participants visiting the introduction display of Sri Lankan products.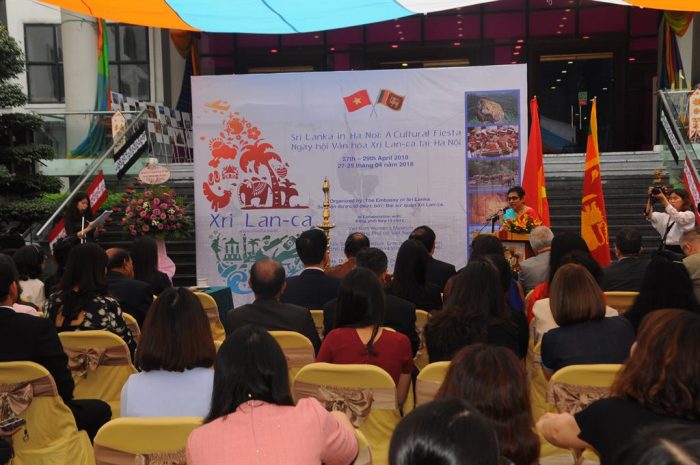 Madam Hasanthi Urugodawatte Dissanavake, Ambassador of Sri Lanka in Vietnam addressing at the opening ceremony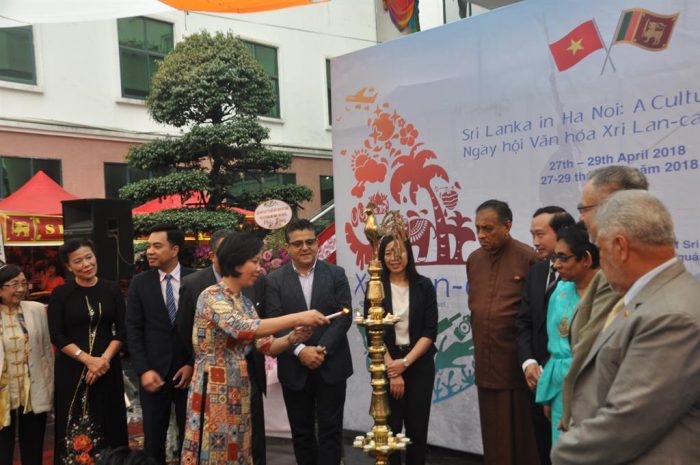 Madam Nguyen Thi Bich Van, Director of the Vietnamese Women's Museum and participants conducting the ritual "Lighting the oil lamp