Ties of Vietnam-Venezuela Friendship
During the wartime, the movement of friendship and support for Vietnam was seen everywhere in the world, particularly in Venezuela, a beautiful country in South America. Typical of this friendship was the event in which Venezuelan guerrillas caught alive Intelligence US Lieutenant Colonel Michael Smolen in 1964 to demand the US and Saigon puppet for exchanging Vietnamese Hero Nguyen Van Troi. Since 1989, Vietnam and Venezuela established diplomatic relations and opened embassies in Vietnam (in 2005) and in Venezuela (in 2006).
On the occasion of the 85th anniversary of Vietnam's Women Union and to make bilateral relations closer, Vietnam's Women Union in collaboration with Venezuelan embassy in Vietnam inaugurated the Exhibition "Venezuelan Women and the Cause of Socialist Construction in the 21st Century" in the morning of Oct. 5, 2015, at Vietnamese Women's Museum.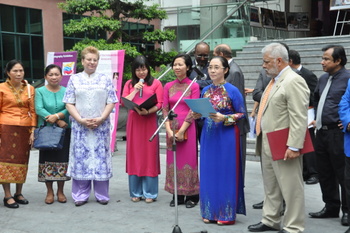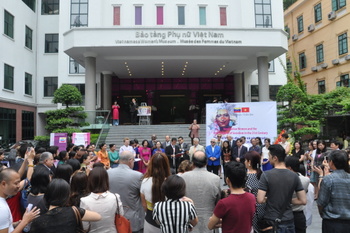 Guests and visitors attending the exhibition inauguration  
The exhibition displays 50 photos to help visitors have an overview on the contributions made by Venezuelan women in all aspects of the contemporary life from farming, industry, sports to politics, science and technology. In any sectors and areas of work, visitors can see Venezuelan women's love and passion. Each of their achievements is a contribution to the development of strong Venezuela.
In his speech at the opening ceremony, Mr. Jorge Rondon Uzcategui , Ambassador of Venezuela in Vietnam said: "Through the Vietnam's Women Union, I would like to congratulate and honour Vietnamese for their voluntary contributions to national freedom and reunification using the verses of Poet-cum-singer Ali Primera, in the song "Vietnamese women":
"An arm cradling baby 
The other carrying the rifle firm 
Oh Vietnamese women 
Let's steadily march forward our future "
Ms. Hoang Thi Ai Nhien, Vice President of Vietnam's Women's Union expressed her wish that the Venezuelan embassy will serve as a bridge to introduce Vietnamese women and Vietnam's Women Union to the Venezuelan people.
The exhibition is on from 5 – 15 October 2015 at Vietnamese Women's Museum, 36 Lý Thường Kiệt St., Hanoi.