Vietnamese Women's Museum holds a training workshop on gender equality and gender mainstreaming
On May 14, 2016, the Vietnamese Women's Museum (VWM) organized a training workshop to enhance the knowledge of its staff on gender equality and gender-related issues¬. A group of gender specialists from UNESCO joined the workshop.
It was a discussion-based workshop where attendants actively shared their thoughts on gender-related issues in order to consolidate knowledge and identify reasons for gender mainstreaming in the museum context. The most important aim after the training was to build a solid plan to connect the museum with its 3 target audiences that are teachers, young girls, and boys.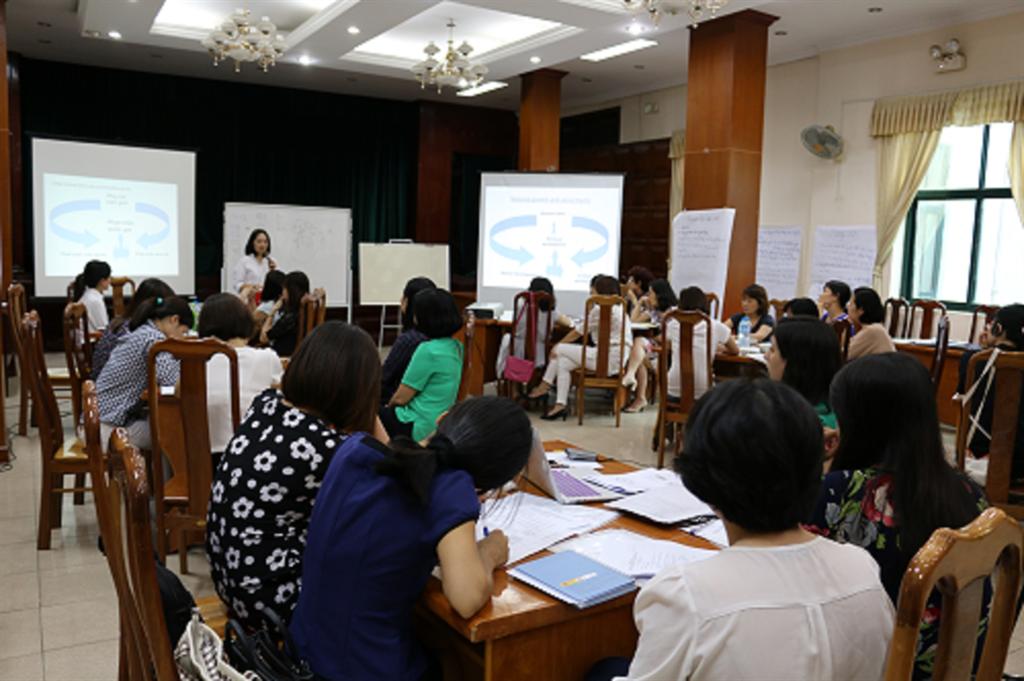 By using different methods, the trainer, Mrs. Tran Thu Thuy – a gender specialist from the Vietnamese Women's Union did her best to present the gender norms in terms of education, job opportunity, marriage, division of labor, and decision making. The trainees, therefore, made their initial proposals on how to integrate gender equality into educational activities as follows:
– Introducing the changes in women's role in marriage and family life can eradicate gender prejudice at some point
– Displaying images to promote gender balance can help visitors understand the roles of women and young girls in a gender context
– Developing gender-based educational programs to support the museum's contemporary exhibitions
– Expanding content in various criteria including age and occupation for the exhibition "Contemporary Women"
The trainer is communicating with a group of her trainees 
After the training, the participants were initially equipped with basic gender equality knowledge, which could be applied to their practical work in order to improve the activities for the museum. Moreover, the draft list of an educational program between the museum and a secondary school is being developed and will be updated in further training workshops.
According to the post-training survey, 100% of the participants were interested in the workshop and confirmed that they achieved their goals. The majority of participants expected the training to be longer.
Another training workshop for the staff of VWM and teachers of Hanoi Experimental Secondary School will be held at the museum in August 2016.