Daughter of the legendary Cu Chi Land
The story is about Vo Thi Mo, a staunch, courageous but very humane and altruistic woman. She was the leader of Cu Chi District Women Guerrilla Platoon in the American War.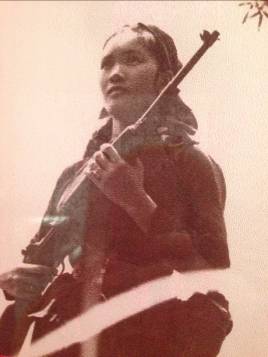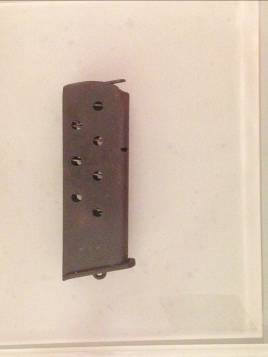 The bullet box of Vo Thi Mo is on display at the Vietnamese Women's Museum
She was born and grown up in Cu Chi, also called an "destructive co-ordinate", as the district witnessed a fierce war with bombing frequencies and number of troops ever seen in this area of less than 40 km2. In her childhood, Bay Mo (Vo Thi Mo) was aware of the hard life of fighting of her relatives and neighbours. Although her father wanted to send her to another place to continue her study, she was determined to stay on to take part in digging tunnels and was very active in the district youth movements such as transporting ammunition, building shelters and digging trenches, serving as liaison and taking part in art performances. When she was 15, she went to the frontline, transporting ammunition for soldiers and taking part in other activities. She followed soldiers to all battlefields to help transport wounded soldiers back to the rear. Someone even said "With the presence of Mo, I am at ease, not fearing to be left behind in the battlefield".
In December 1966, Vo Thi Mo became a member of the Cu Chi Women Guerrilla Platoon and was elected Platoon leader when she was 19. She was very active and initiative in commanding her unit in battles, killing many enemy troops. Also in that same year, she was given the title "Outstanding Fighters in killing US GIs" of eminent grade. She once said: "There are different grades in the title "Outstanding Fighters" depending on the number of American GIs killed, for example, Grade 3 means killing 3 American GIs, Grade 2 killing 6, Grade 1 killing 9 GIs and eminent Grade 10 and more American GIs".
In commanding the women guerrilla platoon, she often joined hand with other units in organizing many battles. In 1967, her platoon together with Battalion C15 destroyed enemy tanks and killed many troops. Then, she directed her woman guerrilla platoon in a battle at Rung Tre (Ben Cat Binh Duong). There, being informed by spies, the enemy organized 17 attacks at Rung Tre in a day, but thanks to their courage, the Cu Chi women guerrillas successfully counter-attacked the enemy. Since then, her unit was given the name "Fire Battalion".
Vo Thi Mo, a small-built woman with extraordinary courage not only loved her companions in arms but is also humane to the enemy. Once during an ambush, her platoon saw four American GIs stopping over a place where mines were laid. One of them took out a letter to read and cried. Other GI also took out a photo, watched it and tear rolled down his cheek. Then all the four embraced each other and cried. Although she was urged by her companions in arms to fire, she resolutely said: "Don't you see they are crying? Forgive them!".
Later on, one of those four GIs re-visited Vietnam, seeking to meet Ms. Mo and asked her: "What gift would you like, I want to give it to you". Then Ms. Mo was in serious illness and needed many things. But she thought as a guerrilla, the only thing she needed was peace and peace was already restored and she answered: "I wish no one would reinvade my country. If my country is occupied once again, I will be determined to fight back".
In December 1970, she was sent to the Army Officer School to study. After graduating, she became a lecturer at the school until South Vietnam was liberated in 1975. After liberation she worked as a guide at Cu Chi Tunnel Relics (Ben Duoc Communal House) until she retired.
At present, the story about Ms. Vo Thi Mo and the bullet box which she used to feed bullets to her K54 pistol given by leaders of the Sai Gon- Gia Dinh Military Zone in 1969 when she was leader of Cu Chi Women Guerrilla Platoon are on display in the Section Women in History at Vietnamese Women's Museum.