Try to visit "My unmarried husband"
This is the love story of ex-soldier Nguyen Thi Hong Nhan and Nguyen Manh Cuong. During the anti-US war of resistance for national salvation, they loved each other but failed to marry. They had to sacrifice their love for filial piety. Their letters and photos were sources of encouragement for them to overcome all difficulties and hardship to accomplish their tasks.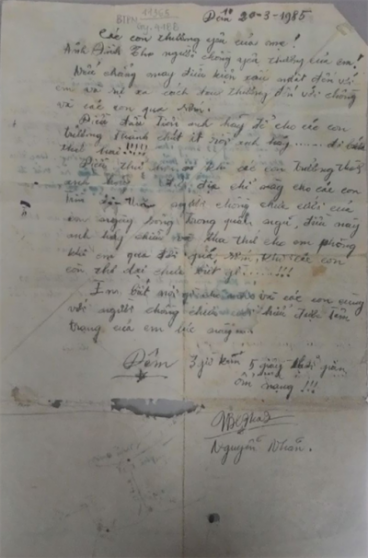 In 1971, in her youth, Nguyen Thi Hong Nhan volunteered to join the army. She was assigned to Military Station 15, Depot Z4, Brigade 559,Truong Son Army with the task of transporting ammunitions and military equipment.
In 1972, once during her mission, she was thrown by the bombing into a crater and fell unconscious. She was taken by a truck driver to a field hospital. Ten days later she woke up and knew she had just escaped from death and wanted to meet the truck driver to thank him but couldn't because she did not know his name and his army unit. Until 1973, by accident she met the truck driver who saved her life a year ago. His name is Nguyen Manh Cuong from Thai Binh province. They were in the same army unit (D76, E11, F571, Brigade 559). Cuong paid attention to her and fell in love with her but his love was not yet accepted. In 1974, Nhan fell ill and was lovingly cared by Cuong. Being moved of his warm sentiment and devotion, she accepted his love. Their love was expressed through letters showing their longing for each other and their commitment to strive to accomplish their tasks.
In 1975, Nhan was demobilized and returned home while Cuong remained in the army. They wrote to each other regularly. By the end of 1976, Nhan rarely wrote to Cuong because her family, particularly her mother rejected her love relation with Cuong. Her mother said "You have been away from home for 4-5 years, and now you want to get married to a man far away from home, if so I will lose you". Thinking of her mother, she was broken-hearted but made a difficult decision of sacrificing her love to be devoted to her family.
In 1985, she suffered from another serious illness. Thinking that she could not recover, she wrote a letter to her husband and children. "If the worst case happened to me, you and our children would have to suffer immensely. When our children grow up, please give them this address so that they can visit "my unmarried husband" whom I met when I was in the army. Please forgive me and do as I wish in case I pass away when our children are too young to know…"
After a period of time, she was gradually recovered. The letter was kept by her as a memory. The letter is among 47 objects given by Ms. Nhan to Vietnamese Women's Museum. Now both Ms. Nhan and Mr. Cuong have their own family and grown-up children. They meet each other at every get-together organized by the former army unit and consider each other friends. Their past love is now a good memory.